Shopping Cart
Your Cart is Empty
There was an error with PayPal
Click here to try again
Thank you for your business!
You should be receiving an order confirmation from Paypal shortly.
Exit Shopping Cart
17025 SE McLoughlin Blvd Milwaukie, OR 97267 (503) 816-6646​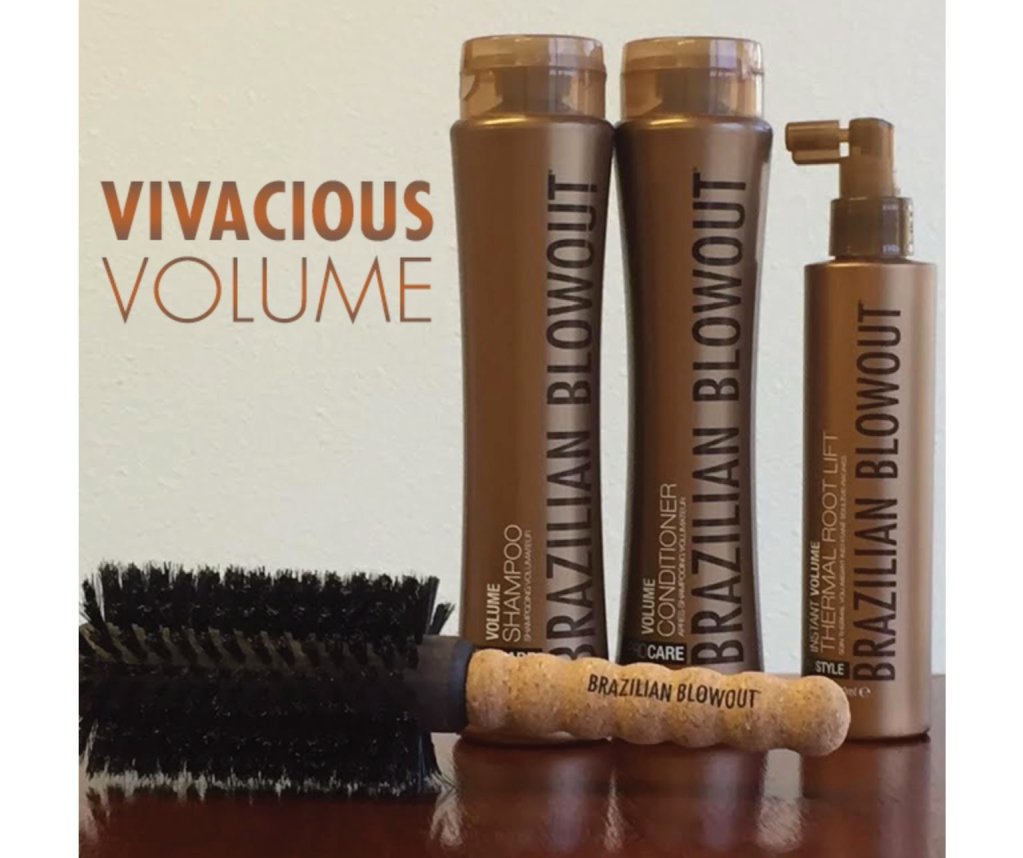 There's a rumor going around that if you get a Brazilian Blowout that your hair loses its volume. That rumor couldn't be further from the truth! Brazilian Blowout is a treatment that smooths hair giving it wonderful texture and shine while also keeping your hairs natural volume! Your hair will also maintain its memory when blow-drying and using a curling iron! 
This video demonstrates how to straighten really curly hair. It's also a great way to straighten all textures.
The Enjoy Hair Care products used are:
Straightener: breaks the hydrogen bond to keep the memory of straight 
Intense Hair and Skin Treatment Oil: hydrates and reduces drying time by 30% 
Shine Spray: blocks out humidity
Creamy Pomade: tames fly aways
Here is a product knowledge video of how to use a dry shampoo.
The Style

You've been at the salon now for three hours and you're getting tired. Sure, the complimentary paraffin dip and hand massage was a nice touch, but you're quite antsy to get out of the salon. Fear has now set in that you're going to walk out with hair that has more poof and volume than a 1978 Charlie's Angel. Yes, it's time to get styled. The arsenal of tools, products, and rollers are in plain sight. Game on.

The Style: Do's

Be patient. The whole purpose of the styling process is to not only make you look like a million bucks, but it allows for the stylist/colorist to see their finished product. Also, be honest. If you're hitting the gym fter your appointment, make them privy to this information so all their hard work and styling isn't going to waste. They can still take the necessary styling measures to see their latest masterpiece in all its glory. It will be a time-saver to say the least.


And speaking of product, pay attention what your stylist is using to create your final look. If you want to recreate that style on a daily basis you're going to need to know exactly how to do it. If you see that your hair is being prepped with three different products before the blow-dryer is turned on, ask why. If you normally use a firm hairspray and your stylist is applying a lighter version then question as to why this is being done. Become part of the styling process. Get hands-on if that's going to help you in the long run.


The Style: Don'ts

Stop assuming that the stylist is out to gouge you on product. If they are recommending a specific product for your hair, then take them up on it. Again, you are walking billboard for their craft. And, if you can't afford to purchase the full size, then ask if there is anything available in a travel size. If it is currently out of stock then see if they can get it from their distributor or supply store. Who knows, you may fall in love with a product and soon discover it is the secret weapon you've been looking for all along.

The Style: Tips

Share your hang ups with your stylist. If you don't know how to properly blow dry your hair, use a round brush, or curling rod then request a lesson. Your stylist wants you to look good. Always. They are there to educate you and guide you into your new look. Stylists have so many styling tricks and tips up their sleeves, you just have to ask for help. And if they mention the salon hosts a weekly or monthly B.Y.O.B (Bring Your Own Blow-Dryer) class, then sign up. What have you got to lose?!
http://www.elle.com/
The Color

Imagine the scenario: You're in the fitting room trying on a brocade shift dress you've wanted all season. As you approach the 3-way mirror, a stunning redhead emerges from her fitting room and you gasp. No, it's not because she has on the exact floral jacquard dress they didn't have in your size, it's because she has the crimson-colored hair you've been wanting for the past year, yet your colorist has no clue what you're talking about. This is where you make nice, grab your phone, and snap her photo.

The Color: Do's

If you have a point of reference or photo you want your hair color to look like, then bring it in for your colorist. This is extremely important in achieving the color you want. Your idea of "red" may be "copper" in a colorist's vocabulary.


Also, if you want your color to last, then for goodness sake purchase some color-care products once and for all! Nothing drives me more insane than a client who comes in two weeks after a color service with fading color and a snippy attitude. Color is an investment and color-care products are your insurance policy. This is not up for debate. It's a fact and you should live by it. Period.


The Color: Don'ts

Stop thinking you can wear every hair color humanly possible. If your colorist says, "Your skin tone is too buttery for that particular shade and I think a blonde that's more golden would be in your best interest," then listen to them! Not only do they want you to leave the salon happy, but you are a walking billboard for their craft and according to my idol, Vidal Sassoon, "If you don't look good, we don't look good."

The Color: Tip

Did you know that sometimes medication can affect haircolor services? It's true! If you and your colorist are trying to achieve a certain result and it's just not right, don't assume your colorist isn't doing a good job. It could be the prescribed pills. This is yet another reason you should be open and honest with your stylist during the consultation phase.
http://www.elle.com/
The Cut

So you're flipping through the latest issue of ELLE and you see the haircut of your dreams. You get on the phone, book your appointment, and sit on the edge of your seat until the day comes. Then, you walk into your appointment, sit down, and say, "I want my hair to look edgy with a shaved side, and really short bangs." Now cue tears and regret.

The Cut: Do's

Remember, a picture is worth a thousand words. If you find a cut or style that you want your hair to look exactly like, bring in that picture to your stylist. This will eliminate any miscommunication that happens in these kinds of situations. If you want your bangs to look like Zooey Deschanel's or your tresses to look like Jennifer Lopez's voluminous layers, a photo will help clear up any confusion. Your stylist will thank you and it will really make the consultation much easier.

The Cut: Don't

Don't take a seat and immediately start gossiping. Let your stylist do their thing. The most important part of the service is the actual consultation and this should start from the minute you sit down in the chair. If your stylist starts the service off by talking about their relationship woes then don't be surprised if you leave the salon disappointed with the final results. No consultation = immediate frustration.

The Cut: Tip

It's also important to share with your stylist what your daily routine is like, especially if it is your first time meeting with someone. If you're a "ready, roll, go" kind of girl, then a cut that requires a lot of styling is not going to work. If you're on a budget and can't afford to get to the salon every 4-6 weeks, then a cut with a lot of upkeep is going to become your worst nightmare.
check out more tips at
http://www.elle.com/
My favorite way to control and smooth hair!
Education From Enjoy Hair Care
Indulge dry, thirsty hair with the moisture it craves with the ENJOY Professional Hair Care Hydrating System.

Start with ENJOY Sulfate-Free Hydrating Shampoo and Conditioner - A color safe, pH balanced and stable formula to eliminate frizz, detangle and create unbelievably smooth, shiny, silky hair.

Reactivate styles, eliminate frizz and lock in color with weightless, leave-in ENJOY Conditioning Spray.

ENJOY Hair & Skin Treatment Oil will instantly penetrate and absorb into hair to smooth, condition and seal hair with amazing shine!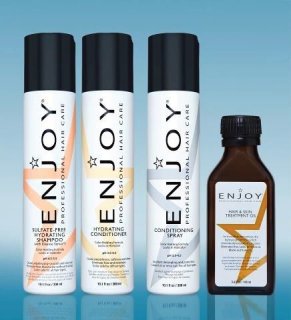 /